Welcome to Cloud Country…
Cloud Country Estates (CCE) is a private, premiere residential subdivision located in the Sacramento Mountains east of Cloudcroft, New Mexico. The subdivision consists of 278 lots of approximately one-half acre each, and has approximately 120 homes these lots. It is the only subdivision that has paved roads, its own water supply and covers about 143 acres at an elevation of 7,500 to 8,000 ft. Water for the subdivision is supplied by two springs and a water well. The roads in the subdivision are owned and maintained by the property owners.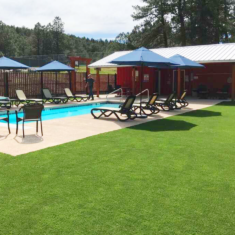 The Cloud Country Pool
In 2019, the Cloud Country Pool opened for members of the Cloud Country Club, and is open from early to mid-May through to the first of October. It is a heated salt water pool with an accompanying bath house that provides showers, bathrooms and toilets. Furnishings include several lounge chairs with umbrellas, and some tables and chairs.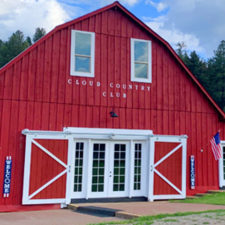 The Cloud Country Party Barn
The Cloud Country Party Barn stands as the icon of the Estates. With a saloon-style bar running 40-feet, full kitchen appliances (including three refrigerators), men and women's bathrooms, and event chairs and tables. It is the area's premiere location for meetings, social events, and weddings.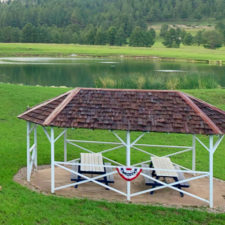 The Cloud Country Pond
The Cloud Country Pond welcomes all residents of the Estates, dazzling watchers with its fountain. It also serves as a pleasant location for a stroll, and is accompanied by a gazebo. The pond also is the home of a family of ducks, and also provides trout which owners and their guests may fish for.