The Cloud Country Club is a member-only club for Cloud Country Estates property owners and other residents in the region eligible for membership. All property owners and members of the Cloud Country Estates Property Owners Association are automatically members of the club. Membership to the Cloud Country Club include the rights to use the amenities under the Club's management, including the use and rental of the Cloud Country Party Barn and surrounding facilities, including the pond and gazebo, use of the Club pool, use of the Club tennis courts, and fishing at the Club pond.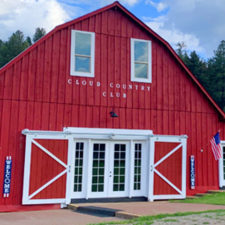 Events Using the Club Barn, Gazebo, Pond
The Estates Party Barn is available for weddings, family reunions, anniversary parties, and many other special events. Services include a western saloon bar, chairs and tables, and a full kitchen, including three refrigerators. It also comes with separate men's and women's bathrooms. Rental rates are available for non-members, free to Club members.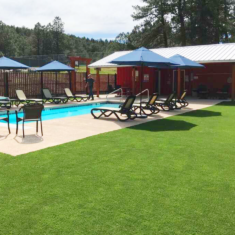 The Club Swimming Pool
Opened in 2019, the Club Pool offers a great reprieve from the summer heat. With a maximum depth of 5 feet, this pool can serve as a refreshing place to lounge in, or a safe and wonderful option for the kids. The pool is available to all Club members and their guests.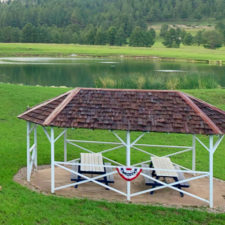 The Club Pond & Gazebo
The Club pond offers a relaxing option for enjoying the day, for a summer picnic, or for fishing. Club members are encouraged to catch and release, but may also catch up to four trout. It also serves as the home for a family of ducks. The pond and gazebo may also by reserved for events.
In addition to managing these amenities for the membership, the Club also owns, manages and maintains:
The entrance to the subdivision, including the signage, entrance towers, and bridge
The stables where community equipment and materials are stored
The workshop next to the stables, where much of the property tech's services are performed
The "Little Club House" where documents are stored and the property tech's office resides
The property tech's residence (home)
Maintaining and managing the RV parking and storage area, including the community trash and dumpsters
The road leading to the residential properties, from the entrance to just past the tennis courts on Cloud Country Drive, including the entrance gate and electronic access box
Employing and all employment matters for the community, such as the property tech's salary and benefits